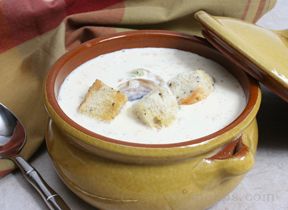 Directions
Drain oysters, reserving their liquid.
Boil the liquid, chicken stock or wine, shallots and celery in a saucepan until the liquid is reduced to approximately 1/2 cup.
Add 1 1/2 cup cream (or milk and cream).
Simmer for 5 minutes.
Whisk egg yolk and remaining 1/4 cup of cream in medium bowl.
Whisk in 1 cup of the hot soup to this.
Then slowly add this egg mixture back into the hot soup.
Bring to a boil and reduce heat to simmer.
Add oysters, salt, pepper, Old Bay Seasoning and lemon juice.
Cook until oysters edges start to curl. Do not boil at this point.
Serve in soup bowls and garnish with croutons.
Container: 1 1/2 quart sacuepan or soup pot
Servings: 4


Ingredients
-
1 quart fresh oysters with liquid
-
1/2 cup chicken stock or white wine
-
2 tablespoons shallots, finely chopped
-
2 teaspoons celery, finely chopped
-
1 3/4 cups heavy cream or 1 cup milk and 3/4 cup cream
-
2 egg yolks
-
salt and pepper to taste
-
1 teaspoon Old Bay Seasoning
-
1 tablespoon lemon juice
-
seasoned croutons to garnish