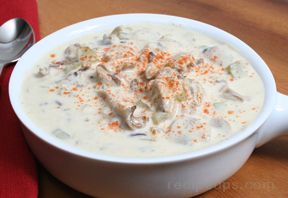 Directions
Drain oysters, reserving liquid in a bowl.
Melt 2 tablespoons of butter in a skillet.
Add mushrooms and sauté for 3-5 minutes.
Melt 3 tablespoons of butter in a heavy saucepan.
Stir in flour to form a roux.
Slowly pour in milk, cream (1 cup at a time) and liquid from the oysters, stirring constantly.
Simmer 5-10 minutes.
Add oysters and continue cooking until the oysters start to curl.
Add lemon juice, salt, peppers, Old Bay Seasoning, mushrooms and cooked rice.
Heat through and serve.
Prep Time: 15 minutes
Cook Time: 20 minutes
Container: heavy saucepan or stockpot
Servings: 4


Ingredients
-
1 1/2 quarts fresh oysters and their liquid
-
2 cups milk
-
1 cup heavy cream
-
5 tablespoons butter
-
3 tablespoons flour
-
1 teaspoon lemon juice
-
salt and pepper to taste
-
1 dash cayenne pepper
-
2 teaspoons Old Bay Seasoning
-
1/2 cup mushrooms
-
1 cup wild rice, cooked per package directions