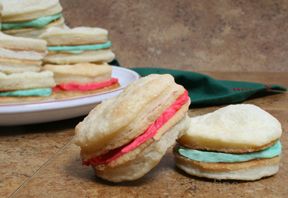 Directions
COOKIE:
In mixing bowl, combine butter, cream and flour.
Mix well.
Cover and refrigerate for at least 2 hours.
Divide in half.
Let half get to room temperature, leave the other half in the refrigerator.
On a floured surface, roll out dough to 1/8 inch thick or to desired thickness.
Cut circles with a 1 to 1 1/2 inch round cookie cutter.
Toss cut outs into a bowl of sugar to coat.
Place on an ungreased baking sheet.
Prick each with a fork several times.
Bake at 375 degrees F. for 7-9 minutes or until set.
Cool on a wire rack.

FILLING:
Mix butter, confectioners sugar, vanilla extract and desired food coloring in a small bowl.
Mix well until all is blended and the coloring is even.
Place one tablespoon of filling (or desired amount) onto the bottom of a cookie, spread evenly, and top with another cookie.
Store in an airtight container.
Prep Time: 10 minutes
Cook Time: 10 minutes
Container: mixing bowl, cookie sheets
Servings: 36


Ingredients
-
COOKIE:
-
1 cup butter, softened
-
1/3 cup heavy whipping cream
-
2 cups flour
-
FILLING:
-
1/2 cup butter, softened
-
1 1/2 cups confectioners sugar
-
2 teaspoons vanilla extract
-
food coloring of choice - optional