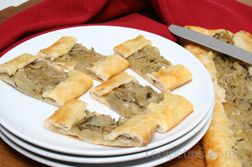 Directions
DOUGH:
Combine flour, sugar and salt in a large bowl.
Cut butter into flour with fork or pastry cutter until it is like coarse meal.
Sprinkle approximately 2/3 cup ice water into the bowl, toss mixture with fork or fingers to moisten.
The dough is ready when you squeeze it and it holds together.
Shape dough into a brick, do not knead it.
Cut dough (brick) in half crosswise.
Press each half into a flat rectangle approximately 1/2 inch thick.
Wrap in plastic wrap.
Refrigerate for at least 2 hours.
Can be made 2 days ahead or frozen for up to one month.

TOPPING:
Melt and heat olive oil and butter in skillet.
When heated add onion, thyme and 1/2 teaspoon salt.
Sauté until onions are tender and lightly browned.
Add extra salt to taste.
Transfer to bowl and set aside to cool.
Can be done a day ahead.

ASSEMBLY:
Cut one rectangle in half crosswise.
Roll out one rectangle of dough on a lightly floured surface into 1/8 inch thick, narrow rectangle. (Approximately 14 inches long and 5-6 inches wide)
May need to let dough warm up for 15 minutes for easier rolling.
Place rolled out dough on baking sheet lined with parchment or a silpat.
Two rolled out rectangles fit nicely on one baking sheet.
Do the same with the second rectangle of dough divided in half.
Preheat oven to 375°.
Divide onion into 4 portions.
Spread thinly over the dough rectangles, leaving a one inch border.
May not need to use all of the onions.
Don't layer it on too thick or the tart slices will flop when picked up.
Fold the dough borders over the onion, leaving the center exposed.
May need to trim corners so it is not too thick.
Brush all around edges with egg.
Bake tarts until crust is well browned, approximately 30 minutes.
Remove, cool briefly, cut each tart into 8 slices and serve.
Prep Time: 30 minutes
Cook Time: 45 minutes
Container: large mixing bowl, baking sheet, large skillet
Servings: 16


Ingredients
-
DOUGH:
-
2 cups flour
-
1 tablespoon sugar
-
1 1/4 teaspoons kosher salt
-
12 tablespoons cold, unsalted butter, cut into small pieces
-
TOPPING:
-
1 tablespoon olive oil
-
1 tablespoon unsalted butter
-
3 medium yellow onions, thinly sliced (approximately 4 cups)
-
3 teaspoons fresh thyme, chopped
-
kosher salt to taste
-
1 egg, lightly beaten