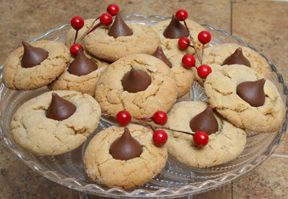 Directions
Sift together the dry ingredients into a bowl, set aside.
In a mixer bowl, beat together the butter, peanut butter, sugar, brown sugar, egg and vanilla.
Blend in the dry ingredients
Shape dough into balls approximately 1 inch round.
Roll balls in sugar and place on a greased cookie sheet or silpat.
Bake at 375° for 8 minutes.
Remove from oven and top with a chocolate kiss.
Return to oven and bake for 3-5 minutes more.
Transfer to a wire rack to cool.
Prep Time: 15 minutes
Cook Time: 10 minutes


Ingredients
-
1 3/4 cups flour
-
1 teaspoon soda
-
1/2 teaspoon salt
-
1/2 cup butter, softened to room temperature
-
1/3 cup peanut butter
-
1/2 cup sugar
-
1/2 cup brown sugar
-
1 egg
-
1 teaspoon vanilla extract
-
small bowl of sugar to roll dough in