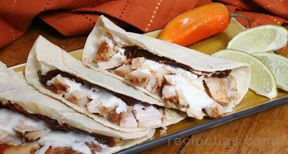 Directions
Heat tortillas in the microwave for 30 seconds.
Wrap them in foil and place in a 200 degrees F oven to keep them warm.
Use leftover turkey from the holidays and cut into strips.
Reheat the turkey in the microwave or oven until warmed through.
Place turkey strips into warmed tortillas.
Top with shredded cheese and fold in half to form a taco.
Serve with lime wedges, sour cream and salsa of choice.
Prep Time: 10 minutes
Cook Time: 5 minutes
Servings: 6


Ingredients
-
8 10 inch corn tortillas
-
1 1/2 pounds leftover turkey, cut into strips
-
shredded cheese of choice
-
sour cream
-
salsa