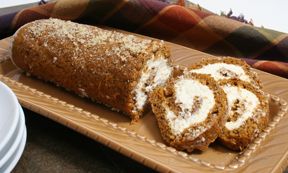 Directions
CAKE:
Preheat oven to 375°.
Grease a 15x10 jelly roll pan and line it with wax paper.
Grease and flour the paper.
Lay out a tea towel and sprinkle with powdered sugar.
Combine flour, baking powder, baking soda, cinnamon, cloves and salt in a small bowl.
Beat eggs and sugar in a large bowl until thick.
Beat in pumpkin.
Stir in the flour mixture.
Spread into prepared pan and sprinkle with nuts.
Bake for 13-15 minutes or until the cake springs back when touched.
Loosen the cake and turn out onto the prepared towel.
Carefully peel off the paper.
Roll the cake and the towel up together, starting with the narrow end.
Cool on a wire rack.

FILLING:
Beat the cream cheese, powdered sugar, butter and vanilla in a small mixer bowl until smooth.
Carefully unroll the cake removing the towel.
Spread the cream cheese mixture over the cake.
Reroll the cake.
Wrap in plastic wrap and refrigerate at least one hour.
Sprinkle with powdered sugar and chopped nuts before serving.
Prep Time: 15 minutes
Cook Time: 15 minutes
Servings: 10


Ingredients
-
CAKE:
-
3/4 cup flour
-
1/2 teaspoon baking powder
-
1/2 teaspoon baking soda
-
1/2 teaspoon ground cinnamon
-
1/2 teaspoon ground cloves
-
1/2 teaspoon ground nutmeg
-
1/4 teaspoon salt
-
3 large eggs
-
1 cup sugar
-
2/3 cup pumpkin purée
-
1 cup chopped walnuts - optional, more for garnish
-
FILLING:
-
1 package (8 oz.) cream cheese, softened
-
1 cup sifted powdered sugar
-
6 tablespoons butter, softened
-
1 teaspoon vanilla extract
-
powdered sugar for garnish