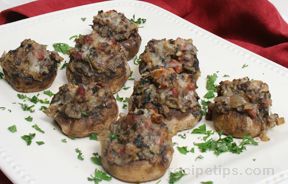 Directions
Preheat oven to 425°.
Trim mushroom stems by cutting off the very end and discarding.
Remove mushroom stems from the caps and finely chop them along with five of the largest mushroom caps.
Heat a medium sauté pan with 2 tablespoons of butter.
Add pancetta and stir until it starts to render some of the fat. (3-5 minutes)
Add shallots, sage and chile flakes.
Cook until shallots are tender. (5 minutes)
Reduce heat if shallots start to brown.
Stir in chopped mushrooms and 1/2 teaspoon of salt.
Cook, stirring frequently, until mixture is tender. (5-10 minutes)
Add the remaining 1 tablespoon of butter.
When it has melted, transfer mixture to a bowl and stir in breadcrumbs and cheese.
Season to taste with salt and pepper.
Butter a casserole dish large enough to hold the mushrooms in one layer.
Arrange mushrooms in the dish and season their cavities with salt.
Stuff cavities with a rounded spoonful of filling. Enough to fill and form a small mound on top of the mushroom. (If you have extra stuffing, use extra mushrooms and fill.)
Drizzle the mushrooms with olive oil and bake until mushrooms are tender and breadcrumbs are golden brown. (25-30 minutes)
Serve warm.
Prep Time: 10 minutes
Cook Time: 25 minutes
Servings: 16


Ingredients
-
1 1/2 pounds favorite mushrooms - approximately 1 1/2 inches wide
-
3 tablespoons unsalted butter, more for casserole dish
-
1/2 cup pancetta, finely diced
-
2 medium shallots, finely diced
-
2 tablespoons fresh sage, chopped
-
1 pinch red chile flakes
-
salt and pepper to taste
-
2/3 cup seasoned bread crumbs
-
1/2 cup fresh grated asiago or parmesan cheese, more for garnish
-
3 tablespoons olive oil for drizzling