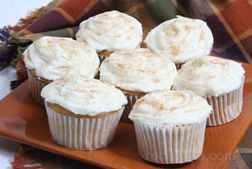 Directions
CUPCAKES
Preheat oven to 350°F.
In a large bowl combine the cake mix, milk and eggs. Beat for 30 seconds on medium and then beat on medium speed for 3 minutes.
Add the carrots, ginger and cinnamon. Beat on low just until the added ingredients are evenly mixed.
Use a spoon to fill 24 paper lined muffin cups with the batter. Distribute batter evenly between cups.
Place in the preheated oven and bake for 15 minutes or until a toothpick inserted in the middle comes out clean. Note: Cupcakes will be light colored in comparison to traditional carrot cake.
Allow cupcakes to cool completely.
FROSTING:
Beat cream cheese until smooth. Add whipped topping and powdered sugar, beat on low until creamy.
Spread frosting on top of cooled cupcakes.
Mix cinnamon and sugar together. Lightly sprinkle on top of the frosting on each cupcake.
Store in the refrigerator until serving.
Prep Time: 45 minutes
Cook Time: 15 minutes
Container: Muffin tin
Servings: 24
Serving Size: 1


Ingredients
-
CAKE:
-
1 package 16 oz. pound cake mix (type requiring water and eggs to be added.)
-
3/4 cup milk
-
2 eggs
-
3/4 cup shredded carrots
-
1 tablespoon ground ginger
-
3/4 teaspoon cinnamon
-
FROSTING:
-
1 package 8 oz. cream cheese - reduced fat
-
2 cups powdered sugar
-
2 cups whipped topping - light
-
1/2 teaspoon cinnamon
-
1/2 teaspoon sugar