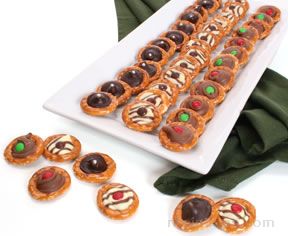 Directions
Preheat oven to 200 degrees F.
Line a cookie sheet with parchment or waxed paper.
Place as many pretzels on the cookie sheet as will fit.
Top each with a Hershey's Kiss or Hug. The Hugs chocolates melt faster than Kisses.
Place in oven and remove when candy begins to soften just enough to press an M&M candy or decoration into softened candy.
Top each with a holiday M&M or decorative candy of choice.
Allow to cool completely and then place in freezer for 15 minutes to firm up chocolate.
Remove from freezer, place pretzel candies in airtight container and store in freezer until ready to use.
*Any small shaped pretzel can be used, such as square, waffle-shaped or round.

*Serve for any holiday or event by changing the color of the M&M candies to colors consistent with the celebration.
Prep Time: 5 minutes
Cook Time: 5 minutes
Container: cookie sheet


Ingredients
-
1 pound (1 bag) of mini round pretzels
-
14 ounces (1 bag) of Hershey's Kisses or Hugs
-
17 3/5 ounces (1 bag) of M&M candies