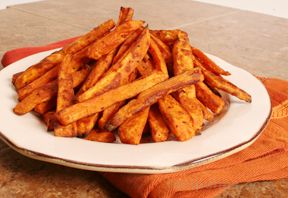 Directions
Preheat oven to 450ºF.
Generously coat baking sheet with vegetable cooking spray or olive oil.
Peel sweet potatoes.
Cut into 1/2-inch thick sticks that are approximately 4 to 5-inches long, or cut into wedges.
Place potatoes into a large bowl and drizzle with olive oil.
Sprinkle potatoes with *seasonings and stir until potatoes are evenly coated.
Place potatoes in a single layer on baking sheet. Potatoes may need to be baked in 2 separate batches.
Bake approximately 10 minutes.
Remove and turn potatoes over, return to oven.
Bake potatoes an additional 20 minutes or until done.
Season to taste and serve hot.

*Any combination of your favorite seasonings can replace those listed in the ingredients.
Prep Time: 15 minutes
Container: large baking sheet
Servings: 4


Ingredients
-
2 pounds sweet potatoes
-
2 tablespoons olive oil
-
1/2 teaspoon course kosher salt, adjust to taste
-
1/4 teaspoon garlic pepper, adjust to taste
-
1/4 teaspoon paprika