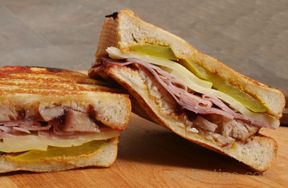 Directions
In a small bowl, stir together olive oil, mustard, cumin, paprika and a pinch of salt.
Split rolls or cut desired bread into slices (8).
Butter the outsides of the bread and lay out of a piece of tin foil or waxed paper.
Spread the inside of each roll or bread with mustard mixture.
Layer meats and cheese on bottom halves of rolls or bread.
Spread a layer of leftover cranberry jelly on top of the meat if desired.
Add a cheese layer and top with pickles.
Cover with the top halves of the rolls or bread.
Place on a hot skillet or pannini press.
If using a skillet, cover the sandwich with foil and set a heavy pan or pot on top to press down the sandwich. (Even a brick wrapped in foil makes a great press.)
Grill, pressing constantly and turning once, until the sandwiches are browned and crisp on both sides. (5-6 minutes per side)
Cut in half and serve warm.
Prep Time: 10 minutes
Container: small bowl, large skillet or a pannini press
Servings: 4


Ingredients
-
MUSTARD:
-
2 tablespoons olive oil
-
2 tablespoons yellow mustard
-
1/2 teaspoon ground cumin
-
1/2 teaspoon paprika, regular or smoked
-
SANDWICH:
-
4 hoagie rolls or 8 slices of your favorite bread
-
6 ounces sliced turkey
-
6 ounces sliced ham
-
leftover cranberry jelly - optional
-
8 slices swiss, provolone or cheddar cheese
-
thin dill pickle
-
1/2 cup soft butter