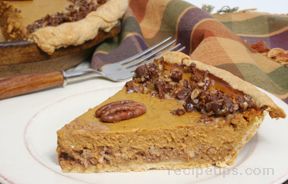 Directions
PIE CRUST:
Preheat oven to 375° with rack on the bottom 1/3 of the oven.
Mix flour, sugar and salt in a food processor.
Add butter, pulse until coarse meal forms.
Gradually add water starting with 6 tablespoons until moist clumps form.
Add more water as needed.
Gather dough into ball, divide in half.
Flatten into 2 disks and wrap in plastic wrap.
Chill at least 1 hour or overnight.
Spray pie plate with non stick cooking spray.
Roll out dough on floured surface to 13 inch round.
Transfer to the pie dish.
Fold edges under and crimp, forming a nice border.
Line crust with foil and fill with dried beans or prick all over with a fork to prevent puffing.
Bake for 15 minutes if using foil, then remove foil and beans and bake for 5-7 minutes more until it turns light golden brown.
Press or prick crust down if it bubbles up.
If just pricking with a fork before baking, bake 15-20 minutes, until light golden brown.
Cool 10 minutes either way.
Reduce oven temperature to 350° and place rack in the center of the oven.
PECAN TOFFEE CRUMBLE:
Melt 2 tablespoons unsalted butter in skillet.
Add one cup pecans, 2 tablespoons molasses and 2 teaspoons of water.
Stir until molasses thickens and starts to coat the nuts, approximately 5 minutes.
Transfer to a sheet of foil to cool.
Chop 1/2 cup of these nuts and 1/2 of a toffee bar together in a small bowl and sprinkle over the baked crust.
Use the rest of the nuts and the other 1/2 of the chopped toffee bar as garnish on top of the cooled pie.
FILLING:
Mix pumpkin and next 6 ingredients in mixer.
Add eggs one at a time until mixed through.
Gradually add milk and sour cream or whipping cream.
Pour filling into prepared pie crust over the nuts and toffee.
Bake until edges are puffed and center is set, approximately 1 hour if using whipping cream, 1 1/2 hours if using milk and sour cream.
Allow to cool completely.
Garnish with remaining toffee topping and pecans if desired.
Prep Time: 20 minutes
Cook Time: 1.5 hours
Container: 9 inch deep dish pie plate
Servings: 8


Ingredients
-
PIE CRUST:
-
2 1/2 cups all purpose flour
-
1 tablespoon sugar
-
1/2 teaspoon salt
-
1 cup (2 sticks) chilled, unsalted butter, cut into cubes
-
8 tablespoons ice water
-
PECAN TOFFEE CRUMBLE:
-
2 tablespoons unsalted butter
-
1 cup pecans
-
2 tablespoons molasses
-
2 tablespoons water
-
1 toffee candy bar
-
FILLING:
-
1 can (15 oz.) pure pumpkin
-
3/4 cup brown sugar, packed
-
3/4 teaspoon cinnamon
-
3/4 teaspoon ground ginger
-
1/2 teaspoon ground nutmeg or 1/4 teaspoon of fresh grated nutmeg
-
1/4 teaspoon salt
-
1 pinch ground cloves
-
3 large eggs
-
1 cup milk plus 1/4 cup sour cream or 1 1/4 cup heavy whipping cream