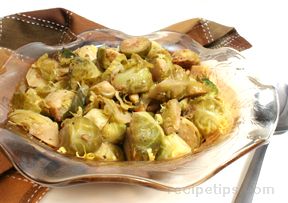 Directions
Preheat oven to 350°. Place rack in the middle of the oven.
Melt 1 tablespoon of butter in a medium skillet.
Add pecan pieces and cook over medium heat, stirring occasionally until they become fragrant. (5-7 minutes)
Sprinkle with 1/4 teaspoon salt.
Place in bowl to cool.
Cook Brussels sprouts in 6-8 quart pot of boiling, salted water, uncovered, just until tender.(5-7 minutes)
May be steamed instead if desired.
Transfer the Brussels sprouts to a bowl of ice water to stop cooking.
Drain and lay out on paper towels to dry off excess moisture.
Melt the remaining 2 tablespoons of butter in a skillet over medium heat, add minced garlic and cook, stirring frequently, for 1 minutes.
Increase heat to medium high and add Brussels sprouts, stirring occasionally, until they start browning. (5-10 minutes)
Add lemon juice, pepper and 1/2 teaspoon of salt.
Stir in pecans and serve warm.
Prep Time: 20 minutes
Cook Time: 10 minutes
Servings: 6


Ingredients
-
1/2 cup pecans, coarsely chopped
-
3 tablespoons unsalted butter
-
1/2 teaspoon salt, more to taste
-
2 pounds Brussels sprouts trimmed, cut in half
-
1/2 tablespoon minced garlic - 2 small cloves
-
2 teaspoons lemon juice
-
black pepper to taste