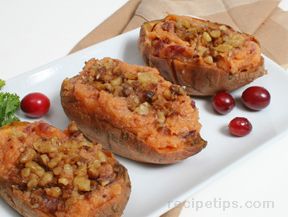 Directions
SWEET potatoes:
Preheat oven to 325°.
Scrub sweet potatoes and pierce a couple of times with a fork.
Place on a baking sheet.
Bake for 1 1/4- 1 1/2 hours or until tender.
Poke with a fork to check for tenderness.
When done baking, set aside to cool slightly.
Cut each potato in half lengthwise.
Using a spoon, gently scoop out the pulp from each potato half keeping the shell in tact.
Place the pulp in a medium bowl.
Set shells aside on a baking sheet.
Using a potato masher or fork, mash the potato pulp until smooth. (Use a hand mixer if you want creamy smooth.)
Stir in 1/2 can of cranberry relish, zest of 1/2 an orange, cranberries, butter and salt.
Spoon potato mixture into each potato shell.
Place filled shells on a 15x10 baking pan.
Sprinkle with toasted walnuts - see recipe below.
Bake for 20-25 minutes or until heated through.

WALNUTS:
Melt 1 tablespoons of butter in a medium pan.
Add walnuts and brown sugar, stir together.
Cook for 5 minutes, stirring occasionally, on medium heat.
Spread out onto a paper towel to cool.
Break apart any chunks.
*Can make the potatoes ahead, cover and refrigerate until ready to serve. Reheat in a 350° oven for 30-35 minutes to heat through.
Prep Time: 20 minutes
Cook Time: 1.5 hours
Servings: 10


Ingredients
-
SWEET POTATOES:
-
5 medium sized sweet potatoes
-
1/2 can cranberry relish or 1/2 cup dried cranberries or raisins, chopped
-
2 tablespoons butter, softened
-
1/2 teaspoon salt
-
zest of 1/2 an orange
-
WALNUTS:
-
1/2 cup walnut pieces
-
1 tablespoon butter
-
1 tablespoon brown sugar