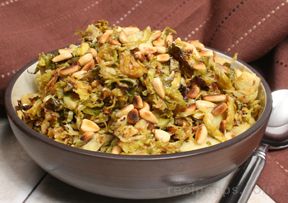 Directions
Preheat oven to 400°.
In a food processor fitted with a slicing blade, coarsely shred the Brussels sprouts. If doubling this recipe, you will have to do the shredding in two batches.
On one large or 2 medium baking sheets, toss the Brussels sprouts with the olive oil and season with salt and pepper.
Spread out in an even layer.
Roast in the oven for 20-25 minutes, stirring occasionally so they do not burn.
Watch them carefully.
Remove from oven, sprinkle with parmesan or asiago cheese and toss.
Bake for 1-2 minutes more.
Transfer to a bowl and top with toasted pine nuts. (optional).
Can be made up to 2 hours ahead. Rewarm before serving.
Prep Time: 15 minutes
Cook Time: 20 minutes
Servings: 8


Ingredients
-
3 pounds Brussels sprouts trimmed
-
1/2 cup extra virgin olive oil
-
kosher salt and ground black pepper to taste
-
3/4 cup fresh grated parmesan or asiago cheese
-
1/2 cup toasted pine nuts - optional