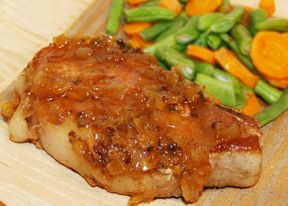 Directions
Heat oil in heavy 12" skillet.
Lightly salt chops. Grind a generous amount of black pepper over each chop. Press pepper into chop.
When oil is very hot but not smoking, add chops and brown well on each side, about 2 minutes per side. Remove chops from pan. Add cider, sage and onion. Boil to reduce liquid by about half - about 5 minutes.
Return chops to pan, reduce heat to maintain a simmer, and cover.
Cook until chops are desired doneness - make a small cut to check. Center should be very pale pink. (If overcooked, chops will be tough and flavorless.)
Remove finished chops to a warmed platter. If cider sauce is too thin, quickly boil down to consistency of syrup. Spoon over chops and serve immediately.
Prep Time: 10 minutes
Cook Time: 20 minutes
Container: large heavy skillet
Servings: 4


Ingredients
-
4 6 oz. pork chops, about 1
-
1 onion, finely chopped
-
2 cups apple cider
-
2 teaspoons dried sage, crumbled
-
1 tablespoon cooking oil
-
salt and freshly ground pepper