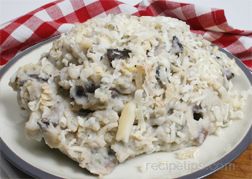 Directions
Boil potatoes until fork tender, 15-25 minutes.
Drain and mash, season with salt and pepper.
Bring 8 tablespoons (1 stick) of butter and milk just to a simmer, stirring to melt the butter.
Add milk mixture and cheese to potatoes, mash to blend.
Season again with salt and pepper.
*This may seem like too much liquid at first but it gets absorbed nicely.
Melt 4 tablespoons of butter in a large skillet over medium heat.
Add mushroom and sauté until soft, stirring.
Stir mushrooms into potatoes.
Place in serving bowl and sprinkle with fresh Parmesan cheese.
Prep Time: 1 hour
Cook Time: 2 hours
Servings: 6


Ingredients
-
2 pounds russet potatoes, peeled, diced
-
1 stick butter
-
1/2 cup milk
-
salt and pepper to taste
-
1 pound mushrooms - any variety
-
4 ounces (1/2 cup) parmesan cheese - shredded