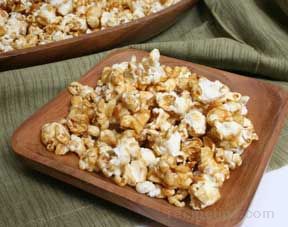 Directions
Pour popcorn into a large, shallow roasting pan.
Sprinkle almonds and peanuts over corn.
Melt butter or margarine in a small saucepan.
Stir in honey and brown sugar.
Cook, stirring constantly, over medium heat until it boils; simmer without stirring for 5 minutes.
Remove from heat and stir in vanilla.
Pour mixture over popped corn and nuts. Stir well to combine.
Bake at 250° for one hour, stirring well every 15 minutes.
Remove from oven and continue stirring as mixture cools.
Cool completely and break apart any clumps.
Store in an airtight container.
Prep Time: 15 minutes
Cook Time: 1.5 hours
Servings: 10


Ingredients
-
12 cups popped corn
-
1 cup sliced almonds
-
1 cup roasted peanuts
-
1/2 cup butter or margarine
-
1 cup light brown sugar, packed
-
1/4 cup honey
-
1 teaspoon vanilla extract