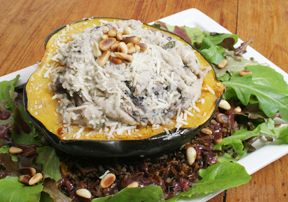 Directions
SAUCE:
In a medium saucepan, bring 2 cups of the broth, wine, cranberry juice and sugar to a boil.
Reduce heat to medium and simmer until reduced to 2 cups, 30-45 minutes.
The sauce can be made up to a day ahead, covered and chilled.

STUFFING:
Bring 4 remaining cumbs of broth, rice and 3 tablespoons of butter (optional) to a boil in a large saucepan.
Reduce heat to medium low, cover and simmer until tender and rice starts to split. Approximately 45 minutes.
Drain, reserve broth, if any, separate from the rice.
The rice can be made up to a day ahead, covered and refrigerated.

SQUASH:
Preheat oven to 350°.
Cut squash in half, seed and place cut side down on a baking sheet.
Roast until tender, approximately 45 minutes.

POTATOES:
Boil potatoes until fork tender, 15-25 minutes.
Drain and mash, season with salt and pepper.
Bring 8 tablespoons (1 stick) of butter, milk and sage just to a simmer, stirring to melt the butter.
Add milk mixture and cheese to potatoes, mash to blend.
Season again with salt and pepper.
*This may seem like too much liquid at first but it gets absorbed nicely.

MUSHROOMS:
Melt 4 tablespoons of butter in a large skillet over medium heat.
Add mushroom and sauté until soft, stirring.
Stir mushrooms into potatoes.

Arrange squash, cut side up, on the baking sheet.
Divide the potato mixutre among the squash halves - Approximately 1 cup per squash.
Preheat oven to 400°.
Place stuffed squash in oven and bake until heated through, approximately 15 minutes.
Bring wine sauce to a simmer.
Whisk in 2 tablespoons of butter, keep warm.
Combine rice and reserved broth, bring to a boil, keep warm.
Divide arugula or spinach among 6 plates, arranging them in the middle of the plates.
Divide the rice among plates, placing on top of the lettuce or spinach.
Place a half a squash on top of rice - nestle it in.
Ladle wine sauce around the and over the squash.
Springle with chopped fresh parsley and extra shredded cheese if desired.
Serve warm.
Prep Time: 1 hour
Cook Time: 2 hours
Servings: 6


Ingredients
-
SAUCE:
-
6 cups chicken broth
-
1/2 bottle of dry red wine (375-ml)
-
1/2 bottle of cranberry juice (375-ml)
-
2 tablespoons sugar
-
SQUASH:
-
9 tablespoons butter
-
1 cup wild rice - uncooked
-
3 large acorn squash - halved and seeded
-
1/2 cup milk
-
2 pounds russet potatoes, peeled, diced
-
2 tablespoons fresh sage - chopped
-
4 ounces (1/2 cup) asiago cheese or parmesan cheese - shredded
-
1 pound mushrooms - any variety
-
1 ounce arugula or spinach - washed and dried