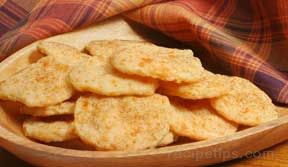 Directions
Preheat oven to 400°.
In a mixing bowl, stir the dry ingredients and then cut in the butter to resemble the consistency of cornmeal.
Blend in the cheeses with a fork until well blended.
Shape into 1 1/2 to 2 inch rolls.
Chill for 30-40 minutes in the refrigerator and then slice each roll into slices approximately 1/4 inch thick.
Bake on an ungreased cookie sheet for approximately 10 minutes.
Remove from cookie sheet and let cool.
Store the cooled crackers in an airtight container.
Freezes well.
*These crackers can be made crispier by slicing them thinner before baking.
Prep Time: 45 minutes
Cook Time: 10 minutes
Container: mixing bowl, cooking sheet
Servings: 6


Ingredients
-
1/2 cup butter or margarine
-
1 1/2 cups flour - sifted
-
1/2 teaspoon salt
-
1 teaspoon baking powder
-
a few grinds of fresh black pepper
-
1 teaspoon cayenne pepper
-
1 cup monterey jack cheese - shredded
-
1 cup colby jack cheese - shredded