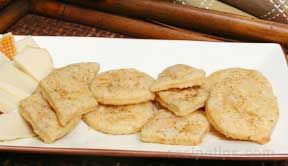 Directions
Preheat oven to 375°.
Place oatmeal in a food processor and pulse until finely chopped.
Add flour, salt, pepper, rosemary, baking powder, and butter. Pulse until mixture resembles coarse meal.
Add milk and pulse until a dough forms.
On a lightly floured surface, roll out dough to an 1/8 inch thick and cut out approximately 40 crackers with a cookie cutter.
Arrange crackers on a baking sheet and bake in the middle of the oven for 12-15 minutes or until lightly brown on the bottom.
Transfer crackers to a rack and cool completely.
Store in an airtight container.
Prep Time: 10 minutes
Cook Time: 10 minutes
Container: food processor, baking sheet


Ingredients
-
2 cups old fashioned rolled oats
-
1/4 cup plus 2 tablespoons all purpose flour
-
2 teaspoons salt
-
1 teaspoon freshly ground black pepper
-
2 teaspoons fresh rosemary leaves - chopped
-
3/4 teaspoon baking powder
-
1/2 stick (1/4 cup) cold unsalted butter, cut into small cubes
-
1/4 cup plus 2 tablespoons milk