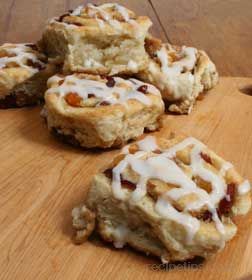 Directions
Preheat oven to 400°.
Grease baking pan.
Place the dried fruit in a small bowl and pour boiling water over it until covered. Set aside.
In a food processor, add the cottage cheese, sugar, buttermilk, 4 tablespoons of melted butter, and almonds. Process until smooth.
Add the flour, baking powder, baking soda, and salt. Pulse the food processor until the dough clumps together similar to biscuit dough (8-10 pulses). The dough should be sticky.
Turn out the dough onto a floured surface and knead gently 4 to 5 times or until the dough is smooth. Do not overwork.
Using a rolling pin, roll out the dough to make a 12 x 15 rectangle.
Brush the surface with 2 tablespoons of melted butter.
Combine the sugar, cinnamon, and cloves. Sprinkle the mixture over the dough; then pat into the dough.
Drain the fruit and pat dry with paper towels.
Distribute the fruit over the sugared dough.
Starting on the long edge of the dough, roll it up in jelly roll fashion.
Pinch the edge to seal, leaving both ends open.
Cut the dough into 12 equal sized rolls.
With the cut side up (spiral design facing up), place the rolls in the baking pan.
Bake on the middle rack for 25 to 30 minutes or until golden brown.
Remove the rolls from pan one at a time and place onto a wire rack that is positioned over waxed paper.
Combine the glaze ingredients in a small mixing bowl, blending the ingredients together until smooth and thick.
Adjust the consistency with a few drops of buttermilk if needed.
Drizzle the glaze over the rolls, allowing the glaze to drip off the edges. The waxed paper will catch any excess.
Serve warm or at room temperature.
Prep Time: 15 minutes
Cook Time: 30 minutes
Container: 9 inch square or round baking pan
Servings: 12


Ingredients
-
ROLLS:
-
3/4 cup cottage cheese
-
1/3 cup sugar
-
1/3 cup buttermilk
-
6 tablespoons unsalted butter, melted
-
1 1/2 teaspoons almond or vanilla extract
-
2 cups flour
-
1 tablespoon baking powder
-
1/2 teaspoon baking soda
-
1/2 teaspoon salt
-
1/2 cup dried craisins - or favorite dried fruit
-
1/2 cup dried apricots - or favorite dried fruit
-
2/3 cup packed brown sugar
-
1/2 cup white sugar
-
1 1/4 teaspoons ground cinnamon
-
1/2 teaspoon ground cloves
-
GLAZE:
-
2/3 cup confectioners' sugar
-
3 teaspoons buttermilk
-
1 teaspoon almond or vanilla extract