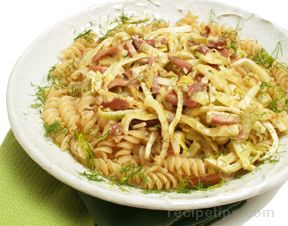 Directions
Put a large pot of water (3 to 4 quarts) to boil for the pasta. Add a tablespoon of salt, if you wish.
Trim the fennel, if necessary: cut off root end, remove stems and frond-like leaves and any soft or damaged areas from the bulb. If you wish, reserve a few sprigs of of the leaves for garnish. Slice bulb lengthwise, then cut crosswise into narrow srtips, 1/8" to 1/4" wide.
Cut prosciutto into narrow strips about 1/4' wide, or into 1/4" dice.
Chop onion.
In a large skillet, melt butter and oil. Add fennel and onion, salt lightly, and stir to coat with oil. Cook over medium heat, stirring frequently, until onion is soft and fennel is crunchy-tender, 5- 10 minutes. Add prosciutto and cream, stir to blend and reduce heat to low. Taste for seasoning, add salt and pepper to taste.
Cook pasta according to package directions, drain, and put in serving dish. Pour fennel-prosciutto sauce over and toss lightly. Garnish, if you wish, with chopped fennel leaves. Pass grated cheese, if using, to be added at the table.
Prep Time: 15 minutes
Cook Time: 15 minutes
Servings: 4


Ingredients
-
1 fennel bulb, about 1 1/2 lbs untrimmed
-
1 tablespoon olive oil
-
1 tablespoon butter
-
1 small onion
-
1/4 pound prosciutto (substitute best quality ham)
-
1/2 cup whipping cream or creme fraiche
-
1/4 cup freshly grated cheese (optional)
-
12 ounces any short pasta (penne, fusilli, etc)
-
salt and pepper