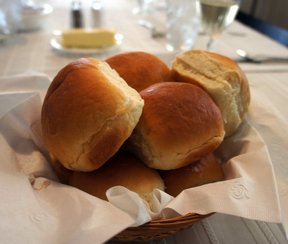 Directions
Dissolve yeast in warm water; let stand until foamy, for about 10 minutes.
Heat butter in milk until butter melts; cool.
In a large bowl, beat eggs .
Add sugar, salt, yeast mixture and cooled milk mixture
Add enough flour until dough is stiff enough to stir with a spoon. Cover and let rise until double in size, approximately 1 hour.
Punch down and raise the second time.
Roll out to 1/4 inch thick. Cut into circles with a tea cup. Lightly butter 1/2 of the circle, fold in half and pinch edges together. Melt shortening on baking sheet. Dip the top of the roll in grease from pan, turn over and set the bottom of the roll on greased pan.
Cover and let rise for 1 hour or until doubled in size.
Uncover and bake at 400° for 12 minutes or until light brown.
Spread butter on top for rolls.
Prep Time: 1 hour
Cook Time: 15 minutes
Servings: 24


Ingredients
-
2 packages yeast (4 1/2 teaspoons)
-
1/2 cup warm water
-
1/2 cup butter or margarine
-
2 cups milk
-
2 eggs, beaten
-
1/4 cup sugar
-
2 teaspoons salt
-
6 cups flour