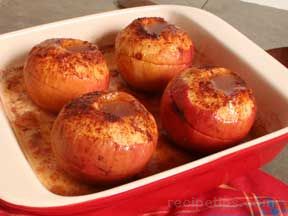 Directions
Preheat oven to 350° F.
Remove stem and wash apples thoroughly. Core apples, removing center down to within 1/2 to 1/4 inch of the bottom.
Peel and remove skin from top quarter of apple.
Using a knife, score lightly through the skin, moving knife in a circle around outside middle of apple. Scoring will help prevent apples from splitting apart while baking.
Evenly space apples in baking dish.
Mix water and lemon juice together. Add vanilla if desired. Pour into and over apples letting excess go into baking dish.
Divide butter into fourths and place 1/4 in each apple.
Divide maple syrup into fourths and pour 1/4 in each apple.
Combine cinnamon and nutmeg, mixing together thoroughly. Sprinkle into apples, allowing excess to fall into baking dish.
Bake uncovered 35 to 45 minutes or until apples are soft.
As apples bake, baste 2 to 3 times with pan juices.
Serve warm and garnish if desired with whipped topping.
Prep Time: 30 minutes
Cook Time: 45 minutes
Container: 8 inch square baking dish
Servings: 4
Serving Size: 1


Ingredients
-
4 large baking apples
-
1 tablespoon lemon juice
-
1 cup water
-
1 teaspoon vanilla
-
1 tablespoon butter, divided
-
2 tablespoons maple syrup, divided
-
1 teaspoon cinnamon
-
1/4 teaspoon nutmeg