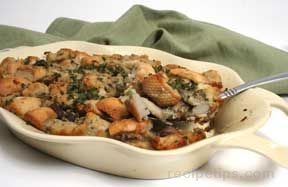 Directions
Preheat oven to 350°.
Grease a 2 quart baking dish.
Cut or tear bread into 1 inch cubes and spread them out on a baking sheet.
Toast in the oven until they begin to crisp and brown. (Approximately 20 minutes)
Transfer to a large mixing bowl.
Melt 2 tablespoons of butter in a large skillet over medium heat.
Add mushrooms and a few pinches of salt.
Saute, stirring ocassionally until golden brown. (Approximately 10 minutes).
Add celery, onion, 2 tablespoons of butter and thyme.
Once the butter has melted, cook and stir, until the vegetables are tender. (Approximately 5 minutes).
Add sage and remaining 4 tablespoons of butter.
Add chicken broth and stir to combine.
Season with salt and pepper to taste.
Pour mixture over bread cubes in mixing bowl and toss to combine until all the liquid is absorbed.
Pour mixture into greased baking dish.
Sprinkle with parsley.
Bake until heated through and top is golden brown. (Approximately 40 minutes)
Cool slightly before serving.
Prep Time: 20 minutes
Cook Time: 45 minutes
Container: 2 quart baking dish
Servings: 10


Ingredients
-
1 pound sourdough bread - cubed
-
8 tablespoons butter
-
8 ounces baby portebello mushrooms
-
salt and pepper to taste
-
4 celery stalks with leaves, sliced
-
1 medium onion - chopped
-
10 sprigs fresh thyme - leaves stripped from stems
-
10 fresh sage leaves
-
3 1/2 cups chicken broth
-
3 tablespoons fresh parsley - chopped