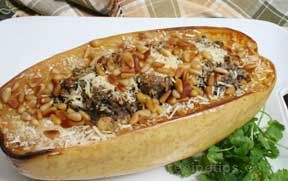 Directions
Cut squash in half lenghtwise.
Scoop out seeds.
Grease baking sheets and place squash cut side down on the sheet.
Bake in a 375° oven for 45 minutes or until fork tender.
Meanwhile, cook the turkey sausage with onion, apples, mushroom, garlic and figs (or craisins).
Cook over medium heat until meat is cooked and slightly browned.
Sprinkle flour over the meat mixture, stir to blend.
Stir in teriyaki sauce, bring to a boil, cook and stir until thickened.
Remove from heat.
When the squash is done, turn over on the baking sheet.
Put 2 tablespoons of butter in each and let it melt.
Fill each squash half with meat mixture and bake 15 more minutes.
Sprinkle until cheese melts. (5-10 minutes)
Toast pine nuts for 5 minutes in a skillet.
Put on top of squash halves.
Serve hot.
Prep Time: 15 minutes
Cook Time: 1 hour
Container: baking sheet and medium frying pan
Servings: 8


Ingredients
-
2 medium sized spaghetti squash or squash of choice
-
1 pound turkey sausage - thawed
-
1 medium onion - chopped
-
1 large apple - peeled and chopped
-
1 clove garlice - chopped
-
1/2 cup fig or craisins - chopped
-
8 ounces baby portobello mushrooms or your favorite mushroom - chopped
-
2 tablespoons flour
-
2 tablespoons teriyaki sauce or soy sauce
-
grated parmesan cheese to taste
-
butter
-
1/4 cup roasted pine nuts