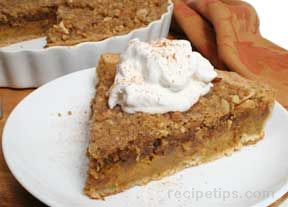 Directions
Tart Crust:
Mix flour, sugar, lemon zest and salt in a large mixing bowl.
Add the butter and mix on low speed until crumbly. (Approximately 3-5 minutes.)
Add the egg and cream mixing on low just until combined.
If dough seems dry, add cream 1 tablespoon at at time until it reaches the right consistency.
Mold into a disk. You may roll the dough out right away on a floured surface into a 13 inch round or wrap the disk in plastic wrap and refrigerate for one hour or up to one week. (Can be frozen for one month)
Filling:
Spoon pumpkin into mixing bowl.
Add eggs one at a time until incorporated.
Add both sugars, flour, ginger, cinnamon, cloves and salt. (plus 1/4 teaspoon of nutmeg, optional).
Whisk in heavy cream and apple juice.
Streusel Topping:
Combine flour, sugars, cinnamon and salt in a medium sized bowl.
Add chunks of butter and mix with a fork until it resembles crumbles.
Stir in walnuts, almonds and crystalized ginger.
Postition rack in the middle of the oven and preheat to 350°.
If dough is refrigerated, warm it up on the counter for 5-10 minutes.
Roll out on floured surface into a 13 inch round.
Drape over a fluted pan or pie plate.
Fit the dough into the flutes and to the top of the dish.
Pour filling mixture into unbaked crust.
Scatter streusel over the top.
Bake until topping is evenly cooked and no longer wet in the center, 60-70 minutes.
Let cool on a rack for at least 2 hours or refrigerate overnight.
Serve at room temperature with whipped cream.
Prep Time: 20 minutes
Cook Time: 1 hour
Container: tart pan or pie pan
Servings: 8


Ingredients
-
CRUST:
-
2 cups flour
-
1/3 cup sugar
-
1 teaspoon lemon zest
-
1/2 teaspoon salt
-
11 tablespoons cold, unsalted butter, cut into cubes
-
1 large egg, lightly beaten
-
1/4 cup heavy cream, more if needed
-
FILLING:
-
1 (15 oz.) can pumpkin - solid pack
-
3 large eggs
-
1/2 cup sugar
-
1/4 cup brown sugar
-
2 tablespoons flour
-
1 teaspoon ground ginger
-
1 teaspoon ground cinnamon
-
1/4 teaspoon cloves or nutmeg
-
1/4 teaspoon salt
-
1/2 cup heavy cream
-
1/4 cup apple juice (or bourbon)
-
STREUSEL TOPPING:
-
3/4 cup flour
-
1/3 cup sugar
-
1/3 cup brown sugar
-
1/2 teaspoon cinnamon
-
1/2 teaspoon nutmeg
-
1/2 teaspoon salt
-
1/2 cup cold, unsalted butter, cut into pats
-
3/4 cup walnuts, chopped - toasting is optional
-
1/4 cup slivered almonds - toasting is optional
-
1/4 cup crystallized ginger - chopped
-
whipped cream for garnish