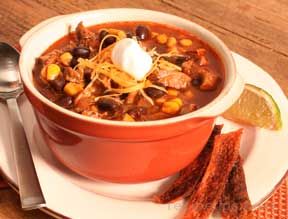 Directions
Heat oil in a saucepan over medium heat.
Add onion and cook, stirring ocassionally until just soft and beginning to brown. Approximately 5 minutes.
Add chili powder and tomato paste, stirring continuously 15-30 seconds.
Don't let chili powder scorch.
Pour in turkey broth and scrape bottom of pan with spoon to loosen cooked bits.
Add cilantro sprigs and bring soup to a boil.
Reduce heat to medium low and simmer, uncovered, until broth has reduced by approximately 1/3 (20-30 minutes).
Take out cilantro sprigs and season to taste with salt.
While soup simmers, fry tortilla strips.
Lay out 2 layers of paper towels for strips to rest on after cooking.
Pour 1 inch of oil in fry pan.
Heat oil until hot, test by putting 1 tortilla strip into the grease. The grease is ready when the oil sizzles or when a candy thermometer reaches 350 degrees F.
Add 8-10 strips and scrunch if you want to give them a wavy shape.
Fry until the strips are crisp and lightly browned (1-2 minutes).
Transfer to paper towels and sprinkle with salt while they're hot.
Repeat with remaining strips.
Add to the soup the turkey, tomatoes, and beans; heat through.
Put in bowls, top with tortilla strips.
Garnish with avocado, cheese, cilantro and dollops of sour cream. Add lime slices if desired.
Prep Time: 30 minutes
Cook Time: 45 minutes
Container: 3 quart saucepan, medium fry pan


Ingredients
-
1 tablespoon vegetable oil plus 1 1/2 cups for frying
-
1/2 cup yellow onion - diced
-
1 1/2 tablespoons chili powder
-
1 tablespoon tomato paste
-
1 quart (4 cups) homemade turkey or chicken broth or canned chicken broth
-
6 sprigs cilantro
-
kosher salt to taste
-
3 10 inch tortillas - any flavor
-
1 cup turkey, dark or white meat - diced
-
3/4 cup tomatoes - diced
-
1/2 cup frozen corn
-
1/2 cup canned black beans, rinsed and drained