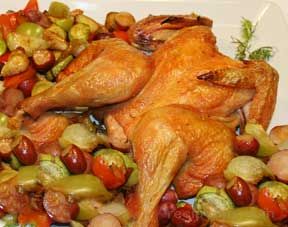 Directions
Preheat oven to 450, with oven rack slightly below center.
Trim off any lumps of fat from the chicken; rinse and pat dry.
With the chicken breast side down, tail towards you, begin at one side of the tail and cut through skin, meat and bones to the neck end. Repeat on the other side of the tail. Lift out the backbone and save it for stock. Turn chicken over, laid out flat, and press down on breast to flatten it.
Oil a rimmed baking sheet large enough to hold the flattened chicken. Scatter herb sprigs over the sheet. Use enough to keep the chicken from resting directly on the sheet. If there aren't enough herbs, add some chopped onions and/or celery.
Salt and pepper the inside of the chicken and arrange it cut-side down, flattened on the bed of herbs. Brush or rub skin with butter or oil. Salt and pepper the skin.
Roast skin-side up until golden brown and crispy and an instant-read thermometer registers 160 - 165 in the thigh, about 45 minutes.
Prep Time: 20 minutes
Cook Time: 45 minutes
Container: rimmed baking sheet
Servings: 4


Ingredients
-
1 whole chicken, 3 - 4 lbs.
-
1 tablespoon butter or oil
-
2 large bunches fresh herb sprigs
-
salt and pepper