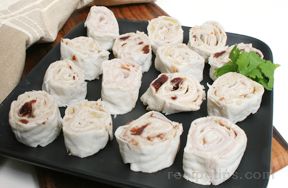 Directions
Combine cream cheese, horseradish, german mustard, jelly and pepper.
Spread approximately 2 tablespoons of mixture on each tortilla.
Sprinkle 1 tablespoons of almonds or 1 tablespoon of dried cherries over each tortilla.
Lay 3 slices of chicken on top.
Roll tortilla up tightly and wrap in plastic wrap.
Chill for at least 2 hours.
When ready to serve, slice each tortilla into pinwheels.
Prep Time: 15 minutes
Container: small mixing bowl


Ingredients
-
8 10 inch flour tortillas
-
1 (8 oz.) cream cheese
-
2 tablespoons horseradish
-
2 tablespoons german horseradish mustard
-
4 tablespoons cherry jelly
-
1 teaspoon pepper
-
1/2 cup slivered almonds or 1/2 cup chopped dried cherries
-
1 pound deli chicken, thinly sliced