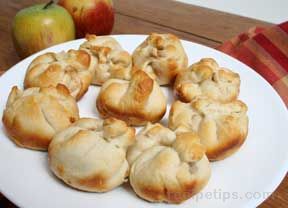 Directions
Spray muffin cups with cooking spray.
Preheat oven to 375° F.
Using a rolling pin, flatten each biscuit into a 3-4 inch circle.
Combine apples with any other fruit; try raisins, craisins, dried cherries or dried figs.
Add sugar, cinnamon, and nutmeg.
Place 1 tablespoon of mixture onto each biscuit.
Dot each with a small pat of butter.
Bring up the sides of the biscuit to enclose the filling. Pinch and twist the top to seal - almost like making a little sack.
Place in greased muffin cups.
Bake for 13 minutes or until golden brown.
Prep Time: 20 minutes
Cook Time: 15 minutes
Container: muffin cup tin
Servings: 10


Ingredients
-
1 package (7.5 oz.) refrigerator biscuit with 10 bicuits
-
1 tart apple, peeled and finely chopped
-
1/4 cup raisins or any other fruit desired
-
2 tablespoons sugar
-
1 teaspoon cinnamon
-
1/2 teaspoon nutmeg
-
2 1/2 tablespoons butter