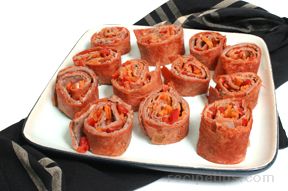 Directions
Mix mayonnaise, terriyaki sauce and lemon juice together in a small bowl.
Spread mixture evenly over one side of an 8 inch tortilla.
Evenly cover tortilla with 3-4 slices of deli roast beef.
Sprinkle slivered or chopped red pepper over beef.
On half of the tortilla, sprinkle shredded carrots.
Starting on one side, roll the tortilla as tightly as possible.
Wrap in plastic wrap and refrigerate for at least 2 hours.
When ready to serve, slice the tortillas into 6-8 pinwheels each.
Prep Time: 15 minutes
Servings: 6


Ingredients
-
4 8 inch tortillas - flavored or plain
-
2 tablespoons mayonnaise
-
1 teaspoon lemon juice
-
2 teaspoons terriyaki sauce
-
12 slices thin sliced deli roast beef
-
1/2 red pepper, thinly sliced or chopped
-
8 tablespoons shredded carrot