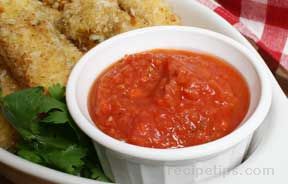 Directions
In a large saucepan, heat the oil over a medium flame.
Add the onions and garlic and sauté until onions are translucent. Approximately 10 minutes.
Add the celery, carrots, salt and pepper.
Sauté until all are tender.
Add the tomatoes and bay leaves.
Simmer uncovered over low heat for approximately one hour or until the sauce thickens.
Remove the bay leaves.
Season with salt and pepper to taste.
Prep Time: 20 minutes
Cook Time: 1 hour


Ingredients
-
1/2 cup extra virgin olive oil
-
2 small onions, finely chopped
-
2 cloves garlic, finely chopped
-
2 stalks celery, finely chopped
-
2 carrots, peeled and finely chopped
-
1/2 teaspoon sea salt, more if desired
-
1/2 teaspoon pepper, more if desired
-
2 (28 oz.) cans crushed tomatoes
-
1 (14.5 oz.) can of crushed tomatoes with basil, oregano and garlic
-
2 bay leaves