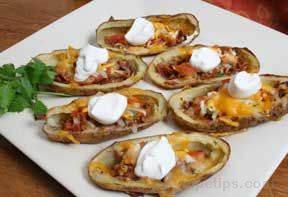 Directions
PICO DE GALLO
In a medium bowl, mix together all of the pico de gallo ingredients and refrigerate.

POTATO SKINS
Preheat oven to 400°.
Place potatoes in oven and bake for one hour or until the are fork tender.
Set aside to cool.
When they are cool enough to handle, cut the center 1/2 inch from the potato by slicing twice. One slice on the right side of the middle and one slice on the left side of the middle. This will leave you with three pieces; two edge pieces and one middle piece approximately 1/2 inch thick. You do not need need the middle piece for this recipe. Save it for a different potato dish.
Turn the oven to 450°.
With a spoon, scoop out the inside flesh of the potato skins, leaving approximately 1/4 inch on the sides.
Spray the whole potato with non stick cooking spray.
Place on a cookie sheet cut side up and bake for 12 minutes or until the edges begin to brown.
Sprinkle a small amount of cheese on each potato skin.
Sprinkle on the bacon and top with one tablespoon of pico de gallo and the remaining cheese.
Place back in the oven for a couple of minutes or until the cheese has melted.
Serve warm with sour cream and pico de gallo.
Prep Time: 30 minutes
Cook Time: 1.5 hours
Servings: 6


Ingredients
-
PICO DE GALLO
-
1/2 cup tomato, chopped
-
3 tablespoons onion, chopped
-
1 1/2 teaspoons fresh cilantro, finely chopped
-
1 tablespoon jalapeño, diced
-
salt to taste
-
pepper to taste
-
1 teaspoon fresh lime juice
-
POTATO SKINS
-
3 medium sized baking potatoes - russetts
-
non stick cooking spray
-
1/2 cup colby jack shredded cheese
-
6 slices bacon, cooked crisp and crumbled
-
sour cream and extra pico de gallo to garnish