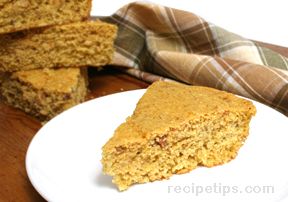 Directions
Preheat oven to 350°.
In a medium sized skillet, cook bacon until crisp.
Remove bacon from the drippings with a slotted spoon. Set drippings aside.
Place bacon on a towel lined plate to drain.
In a large bowl, mix together the cornmeal, flour, baking powder, sugar, baking soda and salt.
In a seperate bowl, beat the eggs with a whisk until foamy.
Whisk in the milk.
Add the milk mixture to the dry ingredients and stir just until combined.
Fold in the bacon bits, chile and chives.
Place 1 tablespoon of the bacon drippings in the bottom of a 9 inch round cake pan with 2 inch sides. Make sure the drippings cover the bottom of the pan.
Pour batter into the pan and bake for 20-25 minutes.
Cool on a wire rack, cut into wedges and serve.
Prep Time: 15 minutes
Cook Time: 30 minutes
Container: skillet, 9 inch round cake pan


Ingredients
-
6 slices bacon, cut into 1/2 inch pieces
-
2 cups cornmeal, white or yellow
-
1 cup all purpose flour
-
2 tablespoons sugar
-
2 teaspoons baking powder
-
2 teaspoons baking soda
-
4 eggs
-
2 cups milk
-
1 canned chipotle chile, minced
-
2 tablespoons fresh chives or green onion, finely chopped