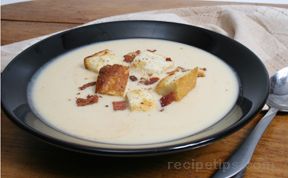 Directions
POTATO SOUP
Melt butter in large sauce pan over medium heat.
Add onion, season with salt and pepper, cook gently, stirring occasionally for 8-10 minutes.
Add garlic and cook for 2 minutes.
Add potatoes, stir, pour in the broth and add bay leaves.
Bring to simmer, partially cover, reduce heat to medium low and simmer gently until the potatoes are tender. Approximately 25-30 minutes.
Discard bay leaves.
Pureé soup in a blender in batches. Fill blender 2/3 full and vent the lid to let the steam escape. If you want a chunkier soup, only pureé half of the soup.
Return soup to the pot.
Add milk and cream and heat through.
Season with salt and pepper to taste.

BACON CROUTONS
While potatoes are cooking, preheat oven to 350°.
Spread bread cubes and bacon on a baking sheet.
Sprinkle with oil and black pepper.
Bake, stirring a few times, until bacon is crisp and bread cubes are golden brown. Approximately 20 minutes.
Cool on baking sheet on wire rack.
Serve on top of potato soup.
Prep Time: 20 minutes
Cook Time: 30 minutes
Servings: 6


Ingredients
-
POTATO SOUP:
-
4 cups homemade or canned chicken broth
-
2 tablespoons unsalted butter
-
2 medum onions, chopped - 2 cups
-
salt and pepper to taste
-
3 large cloves garlic, sliced
-
2 pounds russett potatoes, peeled, cut into 3/4 inch chunks
-
2 bay leaves
-
1 cup whole milk
-
1/2 cup light or heavy cream
-
BACON CROUTONS:
-
3 cups sour dough bread, cut into 1/2 inch chunks
-
4 slices bacon, cut into 1/4 to 1/2 inch pieces
-
1 tablespoon olive oil
-
ground black pepper