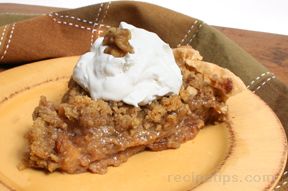 Directions
Preheat oven to 350° F.
Prepare a 9 inch pie crust and bake approximately 12-15 minutes. The crust needs to be just short of done.
Place apples in a large skillet and sprinkle with lemon juice. Set aside.
Combine lemon zest, nutmeg, cinnamon and sugar in a small bowl.
Sprinkle over apples.
Bring apples to a boil over medium heat. Allow to bubble gently.
Cook uncovered 10-12 minutes, stirring occasionally, the liquid should be reduced to half.
Reduce heat to low.
When apples stop bubbling, stir in cornstarch mixture.
Continue to cook and stir for approximately 2 minutes. The juices should have started to thicken.
In a small bowl, combine the flour, sugar and walnuts.
Add butter and toss with a fork until crumbly.
Spoon apple filling into the pie crust, mounding them in the center.
Crumble the walnut topping over the apples, do not pack the apples down.
Bake 30-40 minutes or just until the filling bubbles over and the topping is crisp.
Cool several hours before cutting.
Slice and top with whipped cream if desired.
Prep Time: 1 hour
Cook Time: 1.5 hours
Container: 9 inch pie plate


Ingredients
-
1 unbaked pre-made 9 inch pie crust or your favorite pie crust recipe
-
APPLE FILLING:
-
2 1/2 pounds McIntosh apples, peeled, cored and thinly sliced
-
2 tablespoons fresh lemon juice
-
1/2 teaspoon grated lemon zest
-
1/2 teaspoon ground nutmeg
-
1 1/4 teaspoons ground cinnamon
-
1 cup sugar
-
3 tablespoons cornstarch whisked with 1/4 cup of cold water
-
TOPPING:
-
3/4 cup all-purpose flour
-
3/4 cup dark brown sugar, firmly packed
-
1/2 cup walnuts, chopped
-
1/2 cup pecans, chopped
-
1/2 cup unsalted butter at room temperature (1 stick)