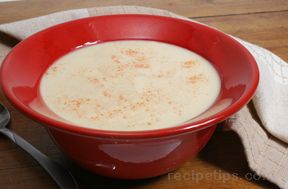 Directions
Melt butter in large sauce pan over medium heat.
Add onion, season with salt and pepper, cook gently, stirring occasionally for 8-10 minutes.
Add garlic and cook for 2 minutes.
Add potatoes, stir, pour in the broth and add bay leaves.
Bring to simmer, partially cover, reduce heat to medium low and simmer gently until the potatoes are tender. Approximately 25-30 minutes.
Discard bay leaves.
Pureé soup in a blender in batches. Fill blender 2/3 full and vent the lid to let the steam escape. If you want a chunkier soup, only pureé half of the soup.
Return soup to the pot.
Add milk and cream and heat through.
Season with salt and pepper to taste and paprika if desired.
Prep Time: 20 minutes
Cook Time: 30 minutes
Servings: 6


Ingredients
-
2 tablespoons unsalted butter
-
2 medum onions, chopped - 2 cups
-
salt and pepper to taste
-
3 large cloves garlic, sliced
-
2 pounds russett potatoes, peeled, cut into 3/4 inch chunks
-
4 cups homemade or canned chicken broth
-
2 bay leaves
-
1 cup whole milk
-
1/2 cup light or heavy cream
-
paprika for garnish if desired