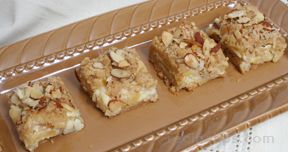 Directions
Heat oven to 350°.
Cut a piece of parchment paper into a 9x14 rectangle and line a 9x9 baking pan with it, allowing the ends to extend over the edge.
Butter the parchment paper and the sides of the pan that are exposed.
Crust/Topping
Set aside 2 tablespoons of flour in a small bowl.
Whisk together the remaining 1 1/4 cups of flour and salt in a small bowl, set aside.
In a large mixing bowl, beat the butter on medium speed until smooth.
Add the cream cheese and almond extract, beat until smooth, scraping down the sides of the bowl as needed.
Add 1/4 cup each of sugar and brown sugar and beat on medium speed until blended.
Add the flour/salt mixture and 1/3 cup of almonds.
Grate the zest one lemon. Reserve 2 teaspoons of the zest, add the rest to the mixture and beat on low just until the four is absorbed and the mixture starts to clump.
Set aside 2/3 cup of dough in another bowl and press the remaining dough into the bottom of the 9x9 lined pan.
Prick the dough all over with a fork.
Bake until the crust is golden, especially around the edges, approximately 20 minutes.
Remove from oven but leave the oven on.
While the crust bakes, add 2 tablespoons of the reserved flour and 2 tablespoons each of sugar and brown sugar to the reserved dough.
Mix with fingertips until combined and somewhat clumpy.
Filling
In a large mixing bowl, beat the cream cheese with an electric mixer.
Add egg, beat until combined, scraping down the bowl as needed.
Beat in 2 teaspoons lemon zest, lemon juice and salt.
Spread apple slices over the bottom crust and pour the cream cheese mixture on top.
Spread gently to cover apples.
Crumble the remaining dough on top.
Sprinkle with remaining almonds.
Bake until topping and almonds are lightly browned, approximately 40 minutes.
Allow the bars to cool in the pan on a wire rack until just warm.
Remove from pan using the extra parchment as handles and set on the wire rack to finish cooling.
Transfer, still on parchment, to a cutting board.
Slide a long metal spatula between the bars and parchment to separate them.
Slide the parchment from the bottom of the dessert.
Cut into 16 equal sized squares and serve.
Prep Time: 20 minutes
Cook Time: 1.5 hours
Container: 9x9 square baking pan
Servings: 16


Ingredients
-
1 1/4 cups plus 2 tablespoons of flour
-
1/4 teaspoon salt
-
1/4 cup unsalted butter
-
1/4 cup cream cheese, softened
-
1/4 teaspoon pure almond extract
-
1/4 cup plus 2 tablespoons sugar
-
1/4 cup plus 2 tablespoons brown sugar
-
zest from one lemon
-
3/4 cup slivered almond, coarsly chopped
-
Filling
-
1/2 cup cream cheese, softened
-
1/2 cup sugar
-
1 large egg
-
2 teaspoons lemon zest
-
1 tablespoon lemon juice
-
pinch of salt
-
1 pound or 2-3 medium apples - braeburn, gala or rome, peeled, cored and sliced thinly