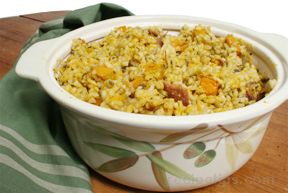 Directions
Heat broth over medium heat, keep warm.
Heat oil in medium saucepan.
Add sage and bacon.
Saute for 5 minutes stirring occasionally - it will become fragrant.
Transfer to a paper towel.
Add shallots or onion to the pan, stirring until softened, approximately 3-5 minutes. May need to add a small amount of oil to the pan.
Add squash and rice and cook, stirring for one minute.
Ladle enough broth into squash and rice mixture to just cover the rice.
Cook, stirring frequently, until the broth is mostly absorbed.
Add more broth and continue steps until the broth is gone and the rice is just tender, approximatly 25 minutes.
As the rice cooks it may bubble gently. If you use all the broth before the rice is cooked, add a little more at a time until the rice is done and the liquid is absorbed.
Stir in bacon, sage and cheese.
Season with salt and pepper.
Ganish with sage leaves - optional.
*Cooks Note: If reheating to serve later, you may need to add some water incase it has dried out slightly.
Prep Time: 10 minutes
Cook Time: 40 minutes
Container: Medium saucepan
Servings: 6


Ingredients
-
4 1/2 cups homemade or canned chicken broth, may need a small amount more
-
2 tablespoons olive oil
-
1 tablespoon crushed sage leaves, adjust to taste
-
4 slices turkey bacon, cut into thirds - regular bacon can be used as well
-
2 medium shallots, minced or 1 small onion, chopped (approximately 1/4 cup)
-
2 cups diced butternut squash
-
1 1/2 cups arborio rice or risotto rice
-
1/2 cup fresh grated parmigiano reggiano cheese - more if desired
-
salt and pepper to taste