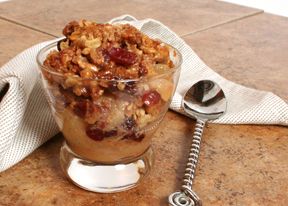 Directions
Preheat oven to 350° F.
Coat baking dish with no stick cooking spray.
Peel, core and slice apples. Place in a large mixing bowl.
In a separate bowl combine lemon juice, cinnamon and nutmeg. Toss mixture with apples to cover.
In a separate bowl, mix flour, sugars, oatmeal and cinnamon. Cut in butter until mixture becomes crumbly.
In the prepared pan, layer the sliced apples and sprinkle the topping evenly over apples.
Sprinkle dried cranberries and quartered caramel pieces over topping.
Bake 45 to 50 minutes or until top is golden brown and apples appear tender. Garnish with whipped topping or ice cream, if desired.
Note: Use baking apples that do not become mushy when cooked. Gala, Granny Smith, Braeburn, and Honeycrisp are all good baking apples to use for this crisp.
Prep Time: 30 minutes
Cook Time: 1 hour
Servings: 6


Ingredients
-
FILLING:
-
8 to 10 large baking apples, peeled, cored, and sliced (enough to fill baking pan 3/4 full)
-
1 tablespoon lemon juice
-
1 teaspoon ground cinnamon
-
1/4 teaspoon ground nutmeg (or a few grinds of fresh nutmeg)
-
TOPPING:
-
1/2 cup all-purpose flour
-
3/4 cup oatmeal (uncooked)
-
1/2 cup brown sugar, packed
-
1 teaspoon cinnamon
-
1/2 cup unsalted butter (or margarine), cut into small pieces
-
3/4 cup cranberries, dried
-
16 caramels, unwrapped and cut into quarters