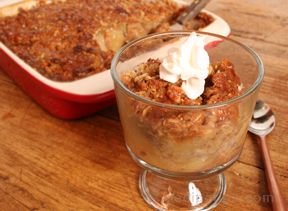 Directions
Preheat oven to 350°F.
Place sliced apples into a large bowl. Toss sliced apples with lemon juice.
In a separate bowl mix 1/4 cup brown sugar, 1/4 cup white sugar, 1/3 cups flour, 1 teaspoon cinnamon, 1/8 teaspoon nutmeg and 1/4 cup of orange juice. Toss mixture in with apple slices.
Place apple mixture into baking dish.
In a separate bowl mix 1-1/2 cups flour, 1 cup brown sugar and 1 cup oatmeal. Cut-in* 10 tablespoons of butter until mixture becomes crumbly. Sprinkle topping over sliced apples. Sprinkle with chopped walnuts if desired.
*Cut-In: To combine dry ingredients with shortening, butter or margarine by "cutting" the dry ingredients in with a pastry blender or two knives. As the dry ingredients are cut into the fat ingredients they begin to form clumps.
Drizzle caramel topping over top of the prepared ingredients.
Bake in preheated oven 50 minutes or until apples are soft and mixture is bubbly. Serve warm or at room temperature.
Adding the caramel topping to this dessert typically results in the crust of the crisp becoming stiff and crunchy. This adds to the flavor of the dessert, so when serving, break the top crust into chunks to assist with the eating and enjoyment of this apple crisp.
Top with ice cream and/or whipped topping.
TIP: An automated apple peeler will reduce the preparation time in half.
Prep Time: 30 minutes
Cook Time: 1 hour
Container: 9" x 9" or 8" x 8" pan
Servings: 6
Serving Size: 1 piece


Ingredients
-
7 to 8 large crisp and tart apples, peeled, cored, and sliced
-
2 teaspoons lemon juice
-
1/3 cup all-purpose flour
-
1/4 cup brown sugar, packed
-
1/4 cup granulated white sugar
-
1 teaspoon cinnamon
-
1/8 teaspoon ground nutmeg
-
1/4 cup orange juice
-
TOPPING:
-
1 cup oatmeal, regular (old fashioned)
-
10 tablespoons butter
-
1 cup brown sugar
-
1 1/2 cups flour
-
1/2 cup chopped walnuts (optional)
-
1/2 cup caramel topping