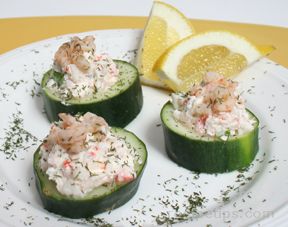 Directions
Wash and slice cucumbers into 1/2 inch rounds.
Using a melon baller, scoop out the center of the cucumbers. Do not go all the way through, leave a small amount at the bottom in order to create a bowl shape.
Mix the cream cheese, crab, scallions shrimp and lemon juice together.
Spoon a small amount of filling into each cucumber bowl.
Top each with a few tiny shrimp and sprinkle with dill.
Prep Time: 10 minutes
Servings: 10


Ingredients
-
1 cucumber
-
4 ounces cream cheese, softened
-
10 imitation crab sticks, chopped
-
1/4 cup scallions
-
2 teaspoons lemon juice
-
1 can of baby shrimp - reserving 1 tablespoon for garnish
-
1 teaspoon dill