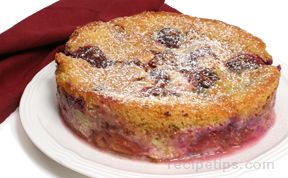 Directions
Preheat oven to 350 degrees F.
Cream together the butter and sugar; add the eggs and beat until well mixed.
Thoroughly blend in the flour, baking powder, salt and pepper.
Spoon batter into a 9 inch springform pan.
Peel fruit and place on top of the batter. You may have to have two layers of fruit to get them all to fit. Set aside.
Combine sugar and cinnamon.
Sprinkle evenly over fruit, then drizzle with lemon juice.
Bake for two hours.
Cool slightly, then remove from pan. Sprinkle lightly with powdered sugar.
Serve warm with vanilla ice cream or whipped cream.
Prep Time: 10 minutes
Cook Time: 2 hours


Ingredients
-
1/2 cup unsalted butter, at room temperature
-
1 cup sugar
-
2 large eggs
-
1 cup all-purpose flour, sifted
-
1 teaspoon baking powder
-
1/8 teaspoon salt
-
12 plums, pluots, or peaches, cut in half & pitted with skins removed
-
TOPPING:
-
1 tablespoon sugar
-
1 tablespoon ground cinnamon
-
1 tablespoon fresh lemon juice
-
Powdered sugar