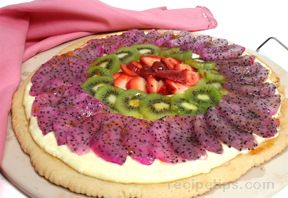 Directions
Roll out cookie dough into a 12 inch round.
Bake 10-12 minutes or until lightly browned.
Allow to cool completely.
Meanwhile, prepare fruit by washing and slicing it into 1/4 inch slices.
Cream together the cream cheese, powdered sugar and lemon juice.
When the crust is cool, top with the cream cheese mixture.
Lay fruit in a circle on top of the cream cheese mixture.
Spread apricot glaze over fruit.
Chill until ready to serve.
*Any combination of fruit can be used for this recipe.
Prep Time: 10 minutes
Cook Time: 10 minutes
Servings: 12


Ingredients
-
1 package of ready to use pre-made sugar cookie dough
-
8 ounces cream cheese
-
1/2 cup powdered sugar
-
1 tablespoon lemon juice
-
3 dragon fruit, peeled and sliced
-
3 kiwi, peeled and sliced
-
1 cup strawberries, hulled and cut in half
-
1/4 cup apricot glaze