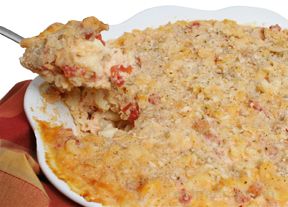 Directions
Preheat oven to 375°.
In a large saucepan, cook onion, garlic, jalapeños or chipoltes in butter, stirring until onion is softened.
Stir in flour and cook mixture while stirring for 3 minutes.
Add milk in a stream, whisking. It will thicken somewhat as you are whisking.
Bring to a boil, then reduce heat.
Whisk in tomatoes.
Simmer 2-5 minutes.
Salt and pepper to taste.
Boil macaroni in salted water according to package directions.
Drain well.
In a large bowl, combine pasta with the tomato mixture.
Stir in cheeses.
Tansfer to a 13x9 inch buttered baking dish or 3 quart gratin dish.
Sprinkle parmesan cheese and bread crumbs on top.
Bake macaroni and cheese for 20-25 minutes or until golden brown and bubbly.
Prep Time: 20 minutes
Cook Time: 20 minutes
Container: 13x9 baking dish
Servings: 10


Ingredients
-
1 1/2 cups finely chopped onion
-
2 cloves garlic, chopped
-
1 1/2 tablespoons minced pickled jalapeño or 1-2 tablespoons chipolte in adobo sauce
-
1/2 stick unsalted butter
-
1/4 cup all purpose flour
-
5 cups milk
-
28 ounces 1 can plum tomatoes, drained and chopped
-
1 pound elbow macaroni
-
2 cups grated monterey jack cheese
-
2 cups grated extra sharp cheddar cheese
-
1/4 cup bread crumbs
-
1/4 cup fresh grated parmesan cheese