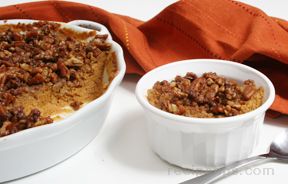 Directions
Preheat oven to 400°.
Combine all ingredients except cereal and nuts in mixing bowl and stir thoroughly.
Pour into souffle dish or pie plate that has been sprayed with nonstick cooking spray.
Sprinkle with cereal.
Bake 35 minutes or until knife inserted in the center comes out clean.
Meanwhile, melt 4 tablespoons butter in a medium sized saucepan.
Add 3/4 cup of crushed pecans and 1/3 cup brown sugar.
Saute over medium heat for 5 minutes.
Remove from heat and drain on a paper towel.
When souffle has cooled slightly, top with pecan mixture.
Serve warm with vanilla ice cream or whipped cream.
Cook Time: 10 minutes
Container: 1 1/2 quart soufflé dish or 9 inch pie plate
Servings: 8


Ingredients
-
1/2 cup thawed apple juice concentrate
-
3 egg whites, beaten until soft peaks form
-
1 can pumpkin (15 oz)
-
12 ounces can of non-fat evaporated milk, scalded.
-
1/2 teaspoon ground ginger
-
1/2 teaspoon allspice
-
2 tablespoons sugar
-
1 teaspoon cinnamon
-
1/2 cup grape nuts cereal
-
4 tablespoons unsalted butter (1/2 stick)
-
1/3 cup brown sugar
-
3/4 cup pecans, crushed or chopped using a rolling pin or food processor