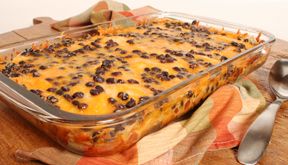 Directions
Preheat oven to 325° F.
Lightly spray baking dish with no-stick cooking spray.
Cut 11 inch diameter flour tortillas into 1/2 inch wide strips.
Spread all the tortilla chips over the bottom of the dish.
Layer in the following order: half of black beans (15 oz), 2 cups of cheese, and half of the flour tortilla strips. Then add the chicken and pour the 3 cups of salsa over the it.
Next, layer in the following order: 2 cups of cheese, remaining flour tortilla strips, and remaining (15 oz) of black beans.
Spread 2 cups of cheese over top.
Cover with foil* and bake 50 minutes.
Uncover and bake an additional 10 minutes.
Serve with extra salsa if desired.
*Spray foil with cooking spray to prevent cheese from sticking.
Prep Time: 15 minutes
Cook Time: 1 hour
Container: 9 x 13-inch baking dish
Servings: 8
Serving Size: 1 piece


Ingredients
-
3 cups chicken, cooked and cubed
-
30 ounces black beans, drained
-
2 1/2 cups tortilla chips, lightly crushed
-
4 cups cheddar cheese, shredded (or use a blend)
-
2 cups mozzarella cheese, shredded (or use a blend)
-
4 large 11 inch diameter flour tortillas, sliced
-
3 cups salsa - any flavor
-
4 ounces can of green chilies, chopped (optional)